Bronchitis--Causes Symptoms and Relief
The trachea bronchi bronchioles lungs
The trachea--or windpipe as it is commonly known--is the tube that extends from the larynx to the bronchi--the two main branches of the trachea resembling an inverted "Y"--and serving as the principal passage for conveying air to and from the lungs. The bronchi, in turn, divide into many smaller branches called the bronchioles--resembling the roots of a tree. Finally, the bronchioles divide off into a grape-like maze, the lungs.
Causes
Technically, bronchitis is an inflammation of the bronchial tubes lining . Sometimes the bronchi get infected due, mostly, to incoming viruses and on occasions bacteria. Or foreign substances irritate the bronchi causing them to produce an excessive amount of mucus, which in turn causes the airways to be obstructed. All this is often part of what we call bronchitis. There are two kinds: acute and chronic.
Acute bronchitis
It often improves within a few days and frequently develops from a cold or flu virus that if not dealt with soon and effectively. It can spread to the bronchi or the ear. Or it appears as an infection in the throat which travels down toward the lungs. The main strategy in case of acute bronchitis is to deal with it rapidly and directly so that it will not reach the lungs and in turn cause pneumonia.
Chronic bronchitis
Repeated bouts of acute bronchitis can result in chronic bronchitis. Among the main causes of this ongoing condition are smoking and allergies; both can be powerful irritants of the bronchi. In fact, over 90 percent of bronchitis sufferers are smokers. This tells us right away that smokers will do themselves a great favor by quitting the habit, not only for their sakes, but for those also around them, especially small children. If not cared for properly chronic bronchitis can lead to hypertension of the lungs, enlargement of the heart and eventually heart failure. Those unwanted disorders are due, mostly, to the lesser amounts of oxygen inhaled and carbon dioxide exhaled by those suffering from chronic bronchitis.
Symptoms
These are some of the common symptoms of bronchitis:
cough--which can linger for weeks
fever
sore throat
chest or back discomfort
production of mucus (sputum)--clear or white or yellowish-gray or green--although not always
shortness of breath
wheezing
chills and shaking
fatigue
Relief Procedure
Relieve symptoms and help the breathing is the main concern. Relief includes:
drink lots of fluids

room temperature water
soups
herbal teas
but not milk
take extra vitamin C with the fluids
thyme leaf tea can act as a decongestant

relax, rest all you can
OTC medications, but do not suppress cough that brings up mucus
if you smoke you need to stop to get well
cayenne and lobelia can help if you have congestion
stay in bed as long as the fever lingers
do breathing exercises and breathe deeply
sugarless hot drinks
do not exert yourself
do not expose yourself to cold air or go barefoot on cold floors
avoid dairy products since they produce phlegm
to reduce congestion take a hot footbath
if the air is dry add moisture with a humidifier
As with all illnesses and conditions common sense is a valuable asset in relieving them. If not sure about the seriousness of the problem, consult your physician.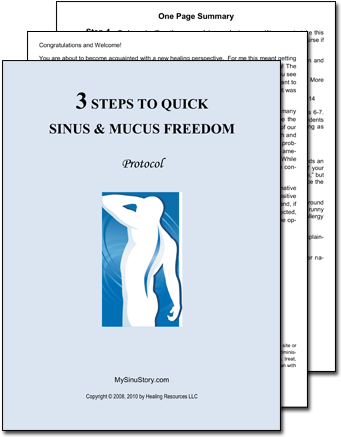 Over 20 pgs, including One-page Summary
The Best 3 Sinus Healing Systems:
Natural Medicine · Food · Acupressure
Combined Into One Fast-Acting
Simple Protocol
It Works!
Unsolicited testimonials can't be wrong
e-Mailed Instantly!
Testimonials
You are right on

M. S., Md

It really works . . . Thank you

R. L., P. B., Fl

3 Steps to Quick Sinus & Mucus Freedom is the right thing

R.D., Cusi, Fr

I found your publication very helpful

Springfield, Va

This article really helped me, thank you so much!

A.U.

Your advise has been quite helpful, less pain

M. C.

3 Steps to Quick Sinus & Mucus Freedom is working well

K. M., L. A.

[the publication] was quite helpful

S. K., India

My sinuses are much better. Glad I followed 3 Steps. Tks.

E. W., Memp.

The [healing herb] really helps

R. L., P. B., Fl

Amazed with reasearch. Magnificent!

N. K., Forum

It's amazing to think how many doctors, medications, and tests I've gone through in the last three years . . . your information was by far the most helpful yet! Thanks again.

G. W., Parma Hts., Ohio