"Dairy Foods Not Part of a Healthy Diet"
The Harvard School of Public Health sent a strong message to the United States Department of Agricultural (USDA) and nutrition experts everywhere with the recent release of its "Healthy Eating Plate" food guide. The university was responding to the USDA's new My Plate guide for healthy eating, which replaces the outdated and misguided food pyramid
Harvard's nutrition experts did not pull punches, declaring that the university's food guide was based on sound nutrition research and more importantly, not influenced by food industry lobbyists. The greatest evidence of its research focus is the absence of dairy products from the "Healthy Eating Plate" based on Harvard's assessment that " . . . high intake can increase the risk of prostate cancer and possibly ovarian cancer." The Harvard's experts also referred to the high levels of saturated fat in most dairy products and suggested that collards, bok choy, fortified soy milk, and baked beans are safer choices than dairy for obtaining calcium, as are high quality supplements.
This, of course, goes along with our long standing belief that cow's milk is not good for the sinuses either, since it stimulates the production of mucus, etc. Harvard is actually promoting the consumption of vegetables and fruits, as well as healthier protein and calcium options such as beans, nuts. etc. Just the fact that milk, axccording to this study, is not a food that is recommended, in genera,l should be sufficient for the sinus sufferer to reconsider it.
Dairy products include:
whole milk
evaporated milk
sweetened condensed milk
skim milk
butter milk
powder milk
cheese

cottage
aged
fresh
otherwise processed
cream

sour cream
cream
whip cream
ice cream
milk shake
malt--similar to milk shake
eggnog
custard
dulce de leche
yogurt
butter
caseinates
casein
whey protein
every country has very specialized milk products that cannot possibly be included here.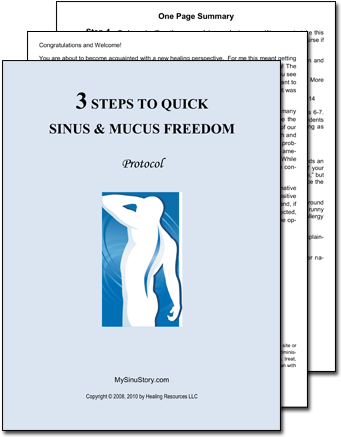 Over 20 pgs, including One-page Summary
The Best 3 Sinus Healing Systems:
Natural Medicine · Food · Acupressure
Combined Into One Fast-Acting
Simple Protocol
It Works!
Unsolicited testimonials can't be wrong
e-Mailed Instantly!
Testimonials
You are right on

M. S., Md

It really works . . . Thank you

R. L., P. B., Fl

3 Steps to Quick Sinus & Mucus Freedom is the right thing

R.D., Cusi, Fr

I found your publication very helpful

Springfield, Va

This article really helped me, thank you so much!

A.U.

Your advise has been quite helpful, less pain

M. C.

3 Steps to Quick Sinus & Mucus Freedom is working well

K. M., L. A.

[the publication] was quite helpful

S. K., India

My sinuses are much better. Glad I followed 3 Steps. Tks.

E. W., Memp.

The [healing herb] really helps

R. L., P. B., Fl

Amazed with reasearch. Magnificent!

N. K., Forum

It's amazing to think how many doctors, medications, and tests I've gone through in the last three years . . . your information was by far the most helpful yet! Thanks again.

G. W., Parma Hts., Ohio
Key Elements to
Remember for
Sinus Cure
Right foods
Pressure points
Right natural remedies




A combination of healing systems working synergistically (cooperatively) for your sinuses is the key to sinus healing



Combining empirical research and reading many sources of information is how I found this new approach



The right sinus relief is more than just taking medications. It involves: Right eating, botanicals, some regular medications & pressure points for the sinuses



Foods can significantly affect your sinuses. Learn which foods can cause problems and which ones promote healing
Disclaimer: I am not a physician nor a licensed health care practitioner. The statements made in this web site or in the publication: Three Steps to Quick Sinus and Mucus Relief, have not been evaluated by the Food and Drug Administration. They are intended to describe what I did or would personally do only, and not intended to diagnose, treat or cure or prevent any disease or condition for others. The reader should continue to regularly consult a physician with regard to his or her health. Especially with respect to any matters or symptoms that may require diagnosis or medical care.
Copyright © 2008, 2010 by Ezoic Inc.
Privacy Policy