Sinusitis: Temporary Relief
What to do for sinusitis for temporary relief
This is what I would do:
Drink lots of plain water at room temperature and

warm teas
soups
do not drink milk

A sinus infection can develop into bronchitis, thus nip the infection in the bud
Take zinc lozenges until the infection is gone
Avoid eating mucus producing foods
Take guaifenesin to loosen mucus and phlegm
If I have excessive sinus drainage (PND) I would deal with it. Click
Get into the bath tub or shower with water as warm as you can tolerate it safely for 15-20 minutes

to loosen phlegm
boost immune system
get rid of toxins


Go to bed and sleep, rest all you can
Keep sinuses draining by using: steam inhalations if necessary
Sinus pressure points (acupressure) can help drain the sinuses
To remove phlegm from the chest area I would do a chest percussion procedure

you need someone to do this procedure for you
read carefully instructions

Keeping the sinuses clear can be very beneficial
At the first sign of sinus pressure be sure to deal with it
If in a few days I don't get satisfactory results I would see my doctor
This is a common sense approach that has worked for me.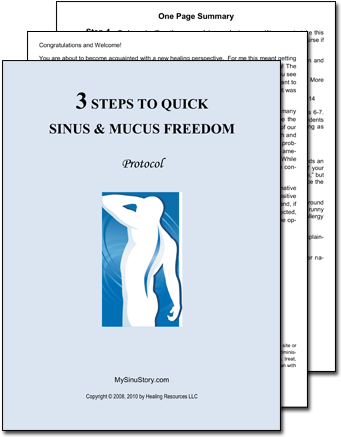 Over 20 pgs, including One-page Summary
The Best 3 Sinus Healing Systems:
Natural Medicine · Food · Acupressure
Combined Into One Fast-Acting
Simple Protocol
It Works!
Unsolicited testimonials can't be wrong
e-Mailed Instantly!
Testimonials
You are right on

M. S., Md

It really works . . . Thank you

R. L., P. B., Fl

3 Steps to Quick Sinus & Mucus Freedom is the right thing

R.D., Cusi, Fr

I found your publication very helpful

Springfield, Va

This article really helped me, thank you so much!

A.U.

Your advise has been quite helpful, less pain

M. C.

3 Steps to Quick Sinus & Mucus Freedom is working well

K. M., L. A.

[the publication] was quite helpful

S. K., India

My sinuses are much better. Glad I followed 3 Steps. Tks.

E. W., Memp.

The [healing herb] really helps

R. L., P. B., Fl

Amazed with reasearch. Magnificent!

N. K., Forum

It's amazing to think how many doctors, medications, and tests I've gone through in the last three years . . . your information was by far the most helpful yet! Thanks again.

G. W., Parma Hts., Ohio