OTC (Over-the-Counter) Remedies
Many OTC remedies are fine and can make a difference in that they can ease the stress which often accompanies many ailments: pain, fever, nervousness, sinus pressure, excessive sinus drainage, swelling, etc. Several things, however, must be kept in mind:
OTC remedies, although they may make us feel better, they do not, ordinarily, cure, but just relieve some of the symptoms of the ailment
Most of them produce side effects, the severity of which can vary
Used over a long period of time they can become ineffective
When used extensively some of them can create other ailments or even become counter-productive
Understanding this aspect of OTC remedies can help us make a more judicious use of them while obtaining their benefits.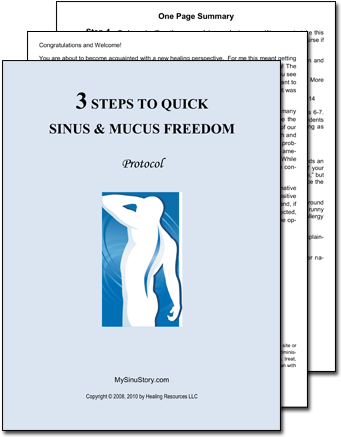 Over 20 pgs, including One-page Summary
The Best 3 Sinus Healing Systems:
Natural Medicine · Food · Acupressure
Combined Into One Fast-Acting
Simple Protocol
It Works!
Unsolicited testimonials can't be wrong
e-Mailed Instantly!
Testimonials
You are right on

M. S., Md

It really works . . . Thank you

R. L., P. B., Fl

3 Steps to Quick Sinus & Mucus Freedom is the right thing

R.D., Cusi, Fr

I found your publication very helpful

Springfield, Va

This article really helped me, thank you so much!

A.U.

Your advise has been quite helpful, less pain

M. C.

3 Steps to Quick Sinus & Mucus Freedom is working well

K. M., L. A.

[the publication] was quite helpful

S. K., India

My sinuses are much better. Glad I followed 3 Steps. Tks.

E. W., Memp.

The [healing herb] really helps

R. L., P. B., Fl

Amazed with reasearch. Magnificent!

N. K., Forum

It's amazing to think how many doctors, medications, and tests I've gone through in the last three years . . . your information was by far the most helpful yet! Thanks again.

G. W., Parma Hts., Ohio