Foods and Your Sinus Problems
Having sinus pressure, congestion, sinusitis, sinus headaches, rhinitis? Allergies are one major factor in causing or contributig to many of those sinus disorders. Another major player is food. Yes, some foods can cause some sinus difficulties to many people, yet this is widely unknown. In fact, as I talk to people through the internet, and mention to them some specific foods to avoid, so far the answer has been 100 percent the same a few days later: "It's true"--then they mention the particular food(s) they have left out and the positive results on their sinuses within a very short time.
There seems to be, however, a difference of opinion on this issue in the medical profession. But we who have suffered from sinus problems in the past and have changed some foods in our diet have no problems saying: "It does make a difference." For example, some foods can create excessive:
histamine
sinus or nasal congestion
sinus pressure--if some of the above items are not properly handled
You should become acquainted with those foods. They come from both the animal and vegetable kingdoms. It would be advantageous for you if, together with this knowledge of foods to avoid, you would also obtain some practical information on how you can approach the allergies issue. Again, were you to focus on these two items for a while you could see, probably, very significant, positive results. Elliminating some foods alone could bring you some surprising sinus relief in 2-3 days.
Sinus Foods
Here is a list of common foods which can stimulate the production of mucus, which in turn can lead to other sinus issues such as: congestion, pressure and sinusitis and therefore should be avoided:
Food containing additives
Eggs

when eaten regularly
effect varies from person to person

Omega-6 fatty acids containing foods
Refined vegetable oils

safflower
sunflower
corn oil
sesame

Saturated fats and trans fats

high fat meats
dairy products
deep-fried foods

Fermented foods

cheese
sour kraut
wine
beer, etc.

Foods containing sugar in significant amounts

soft drinks
desserts
ice cream
cold breakfast cereals with sugar

Cow's milk--possibly one of the worst
Refined carbohydrates

white bread
white rice
pastas
Sinus worst food
From my personal experience confirmed by those with whom I have "compared notes", the worst foods for the sinuses, ranked by the most hurtful at the top:
Eggnog
Milkshake
Ice cream
Cow's milk
Mucus producing to a lesser extent:
soy in its various forms
potatoes
cabbage
bananas
too much salt
meats
Foods Good for the Sinuses
Fruits

pineapples
lemons and limes
grapefruits

has cleansing properties
promotes general health

avocados
apples
pears
apricots
peaches

Fresh vegetables

carrots
lettuces
turnips
water cress, etc.

Coconut water

it has much potassium
it is credited with bodily cleansing properties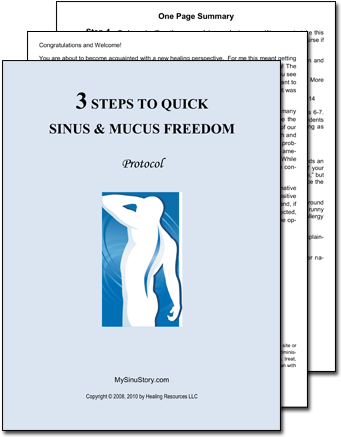 Over 20 pgs, including One-page Summary
The Best 3 Sinus Healing Systems:
Natural Medicine · Food · Acupressure
Combined Into One Fast-Acting
Simple Protocol
It Works!
Unsolicited testimonials can't be wrong
e-Mailed Instantly!
Testimonials
You are right on

M. S., Md

It really works . . . Thank you

R. L., P. B., Fl

3 Steps to Quick Sinus & Mucus Freedom is the right thing

R.D., Cusi, Fr

I found your publication very helpful

Springfield, Va

This article really helped me, thank you so much!

A.U.

Your advise has been quite helpful, less pain

M. C.

3 Steps to Quick Sinus & Mucus Freedom is working well

K. M., L. A.

[the publication] was quite helpful

S. K., India

My sinuses are much better. Glad I followed 3 Steps. Tks.

E. W., Memp.

The [healing herb] really helps

R. L., P. B., Fl

Amazed with reasearch. Magnificent!

N. K., Forum

It's amazing to think how many doctors, medications, and tests I've gone through in the last three years . . . your information was by far the most helpful yet! Thanks again.

G. W., Parma Hts., Ohio