Sinus Pressure Quick Relief
1. Using your middle finger tip, left hand, firmly press at a point in the center of the back of the head in a large hollow just under the base of the skull. For 4 minutes. Be sure you are precisely on the correct spot. The latter will be a very sensitive spot.
2. As you do the above acupressure exercise do this at the same time: Using your index finger tip, right hand, firmly press directly between the eyebrows, in the indentation where the bridge of the nose meets the forehead. For 3 minutes.
3. Then: Using the tips of the thumbs perpendicularly to your face, press firmly in the indentations on either side of where the bridge of the nose meets the ridge of the eyebrows. For 4 minutes.
4. Drink a large glass of water at room temperature. Continue to drink much water during the next several days.
5. If the sinus acupressure exercises, above, did not quite relieve pressure in your sinus cavities as you would have liked, then due some steam inhalation. Place your face at least a foot from steam source--to protect your cilia. Use some thyme leaves in the water. It is believed that this herb will help to decongest the sinuses. Or use a sinus rinse like Neil Med Sinus Rinse or from some other OTC brand you trust. The instructions in the package are easy to follow.
6. If you use regularly mucus producing foods, please, stop using them for a week and notice the difference.
Were you to follow the above suggestion regularly--whether you are having a bout with sinus pressure or not--you would probably see your sinus pressure or other sinus problems vanish in a short time.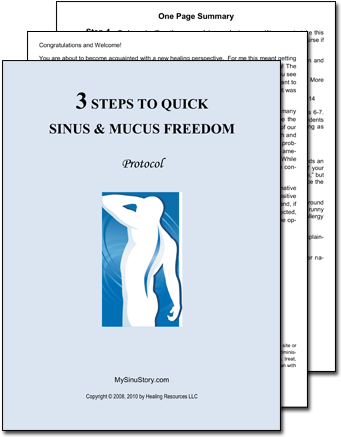 Over 20 pgs, including One-page Summary
The Best 3 Sinus Healing Systems:
Natural Medicine · Food · Acupressure
Combined Into One Fast-Acting
Simple Protocol
It Works!
Unsolicited testimonials can't be wrong
e-Mailed Instantly!
Testimonials
You are right on

M. S., Md

It really works . . . Thank you

R. L., P. B., Fl

3 Steps to Quick Sinus & Mucus Freedom is the right thing

R.D., Cusi, Fr

I found your publication very helpful

Springfield, Va

This article really helped me, thank you so much!

A.U.

Your advise has been quite helpful, less pain

M. C.

3 Steps to Quick Sinus & Mucus Freedom is working well

K. M., L. A.

[the publication] was quite helpful

S. K., India

My sinuses are much better. Glad I followed 3 Steps. Tks.

E. W., Memp.

The [healing herb] really helps

R. L., P. B., Fl

Amazed with reasearch. Magnificent!

N. K., Forum

It's amazing to think how many doctors, medications, and tests I've gone through in the last three years . . . your information was by far the most helpful yet! Thanks again.

G. W., Parma Hts., Ohio